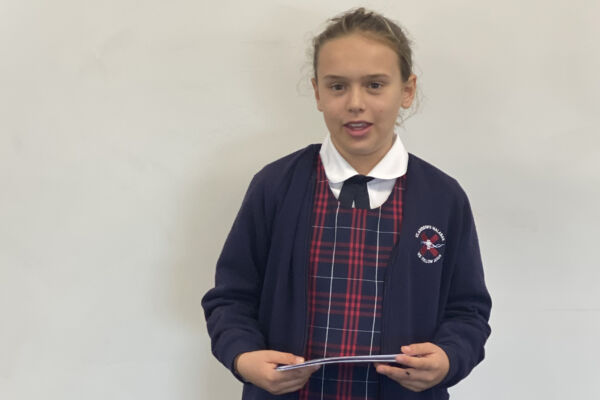 Students from St Andrew's Catholic Primary School Malabar will give voice to their thoughts on topics including technology and the value of a Catholic education at the newly expanded Botany-Randwick Public Speaking Competition.
The competition began with just three Sydney Catholic primary schools and has grown to include 14 primary and four secondary schools for the first time this year.
"It is important that children get to have a voice on current topics," – Rachel Baker
Students from Champagnat Catholic College Pagewood, Our Lady of the Sacred Heart College Kensington, and Brigidine College and Marcellin College in Randwick have mentored students to become more effective public speakers as part of the program. They will also help to adjudicate during the semi-finals on 7 June. 
Participants from Years 5 and 6 will give a two-to-three-minute speech on one of four topics. They will be assessed based on their clarity, fluency and confidence when speaking. Points will be awarded based on their use of appropriate and emotive language, and research to support their point of view.
St Andrew's Year 5 student Kayla Brady will take part in the competition semi final.
"I chose the topic 'Nothing is more rewarding than being of service to others'," Kayla said.
"I truly believe this and try to live my life according to this statement. I enjoy sharing my ideas in front of people and love participating in speech and drama activities."
Acting Principal Rachel Baker said the competition gave students the opportunity to grow their research, writing and listening skills along with their confidence and self-expression.
"It is important that children get to have a voice on current topics," she said.
"They all have great ideas and question so much about the world and society around them. When they write about topical issues we feel they can relate to them more, which in turn can provide opportunities for them to construct quality writing."
SEMI-FINAL TOPICS
'Nothing is more rewarding than being of service to others'

'The internet has caused more problems than it has solved'

'We must treat our elders with respect'

'Two hundred years of Catholic Education in Australia is worth celebrating'