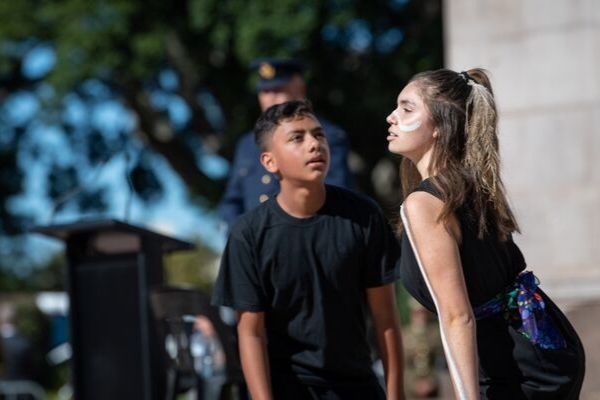 Truth and kindness flowed through the words and actions of elders, dignitaries and students who attended the 13th annual Commemoration Service for Aboriginal and Torres Strait Islander Veterans held today at Sydney's Hyde Park.
Students from 13 Sydney Catholic schools were present at the event, which drew heavily on this year's National Reconciliation Week theme, 'Grounded in Truth: Walk Together with Courage'.
Aunty Cathy Dodd Farawell delivered the Acknowledgement to Country, speaking of her brother's career in the armed forces as a source of pride for her family before calling on those present 'to have time for one another and love one another'.
"We need to bring all our children up with pure water, earth and kindness," she said.
Students from Sydney Catholic School's Creative and Performing Arts Murawadeen Goodjarga ensemble echoed the message when they performed a contemporary welcome dance to the song Nature Boy.
It's good that we do this every year. Not many people know how many Indigenous men and women fought in the wars.– Burnun Lawson
Australian Navy CPO Tina Elliott, a Murri woman, and Governor of NSW Margaret Beazley continued to meet the Reconciliation Week theme when they spoke of Aboriginal and Torres Strait Islander ex-servicemen's experiences of the armed forces and the social injustices they met with on their return home.
This year's was the final service Clancy Catholic College Year 12 student Jordan Salmon would attend before graduating high school, after taking part each year since Year 7.
"I really liked how the catafaulke party came in and hearing all the speeches," he said.
"They were very well written, and very well spoken as well. The theme of not shying away from the truth – they hit that nail on the head."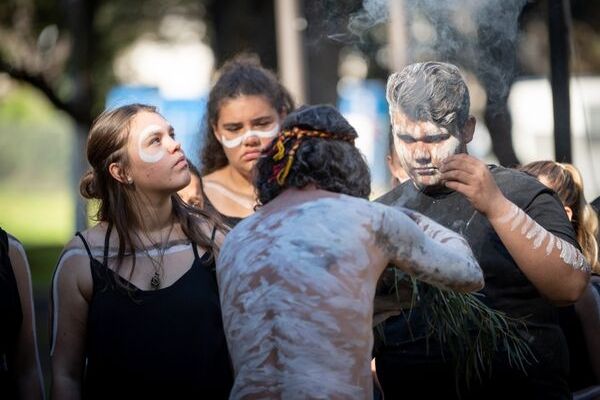 All Saints Catholic College Year 10 student Burnun Lawson said it was important to celebrate the Aboriginal and Torres Strait Islander men and women who were in World War 1 and 2.
"It's good that we do this every year, because they don't get that much recognition, and not many people know how many Indigenous men and women fought in the wars."
Published April 2019 on About